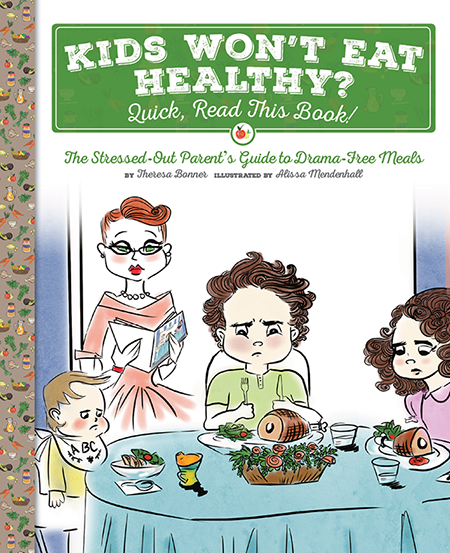 As a mother of two small children, a certified health coach, an active member of my community and a writer, I rarely have time to sit down with a book and read it from cover to cover. There's just no time. I might make it through a couple chapters, set the book down and never open it again. After hearing the same from client after client, I realized it was time for an informative self-help parent's nutrition book that was also a quick, easy read. A book that busy parents can get through in one or two sittings and feel that they have gained life changing knowledge. 'Kids Won't Eat Healthy? Quick, Read This Book!' Is the book that busy, stressed out parents have been looking for. With it's retro, children's book illustrations and no-nonsense,  tough-love approach it is a much needed breath of fresh air in the parenting self-help section.
My book is now available in paperback and as an ebook on Amazon.com, Kindle and Kindle Unlimited!
People are talking about 'Kids Won't Eat Healthy? Quick Read This Book!'
Format: Paperback
The title says it all! It is a quick, informative, sometimes whimsical read, and is an excellent source of information for any parent, grandparent, or anyone who cares for and about children and their health, and her ideas really work if you stick to it. She speaks from experience and drives home the point that changing the way our children eat starts with the way we, the adults, eat. The illustrations are extremely cute, and the recipes healthy, simple, and delicious. I have tried most of the recipes, and everyone has enjoyed them. It also lists other books by other authors that she recommends that may be of interest to anyone trying to get children to eat healthier foods.
Buy it, read it, live it! You won't be sorry.
By Carina on October 19, 2015
Format: Paperback
This is a real book by a real mom for real moms! There's no posturing or pretense here. If you want to know how to get your kids to eat healthy – and improve your own health along the journey as well – Bonner's advice is priceless. Following her guidelines will also improve your relationship with your kids as it's all about communication and modeling. This is a great quick and easy read for new moms and veterans alike. Would make a great baby shower gift too!
Format: Paperback
Short and sweet. Bonner has a wealth of practical information delivered in a non-judgmental, conversational tone. I read it in two sittings but will certainly implement several of her tips over the course of the next days, weeks, and months. Buy it for yourself … or for any friend/family member who struggles with serving healthy food to his/her young children. Practical and useful! A good investment.
Format: Paperback 
Gem of a book! Perfect, easy read for all parents. Non-judgmental, entertaining and full of important nutritional information as well as ideas for fun ways to help children find the joy in food and mealtimes!
Excellent!